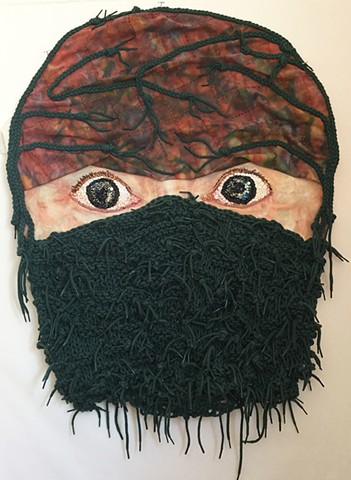 Life and Death on a Shoestring
Cotton fabric, shoelaces, buttons, acrylic paint, and dye over canvas. Hand knitting, embroidery, dying, braiding, stitching and painting.
40"H x 28"W x 2"D
2020
When Covid – 19 shut everything down, I thought there would be time to organize. First was a cabinet where I had placed projects for which an earlier effort had failed. The most impressive was a large bag of shoestrings. In 2012 I had imagined I could knot these together and knit a sculptural piece without leaving the chair to which I was confined following a back injury. But it was too difficult. Also in the bag was a remnant of shoestring knitting still on large needles.
It kept working on my mind. Life in isolation is hard. There is no clue when you will reach the end of your endurance. A shoestring symbolizes a short rope. The spiky ends sticking out at every knot are similar to COVID cells. With this material inspiration I set to making a large mask. I took many photographs of eyes, looking for the expression that captured the look of an unknown future. After many tries, I also included a head-wrapping laced with confused brain synopses, a signaling symptom of illness.